Thoughts on Easy Rider, biker cinema, and riding and working on a vintage chopper.
Back before the chopper resurgence, there was a man who helped me build a real old school chopper. The bike was stolen and now that man is gone as well. This is in response to the simple and sugar coated obit in the old home town newspaper.
Tom Gordon
had a true passion for Ironhead Sportsters. It was contagious. He would trash talk big twins, Hondas, and Ducatis with equal disdain. He'd also shut them down at the drag strip. For Tom, Ironheads were the best motorcycle around, period.
Tom was an asshole. He cared more about getting his drag bike ready for Sunday than he did about fixing your shit. We all knew that and tolerated that because he was so damned passionate about it. He didn't run Motorcycle Specialties because he loved working on bikes. He needed a way to finance his own hobby and since he was already in the shop, well... Which meant you could always find him in his little tin shed by the railroad tracks. Never call ahead, he didn't answer the phone.
You could always stop by and ask him questions. He'd have an answer.
Me: What should I do for turn signals?
Tom: Are you building a fucking bagger or a chopper?

.....

Me: I'm trying to think of a good color for the bike.
Tom: Are you gonna ride it or stand in your driveway washing it all day? Paint it black.

.....

Me: Like my new truck?
Tom: About time you got rid of that old rattling bucket of bolts.
Tom was arrogant, opinionated, and a wee bit racist. I forgave the latter as he grew up in a time where institutional racism was still allowed in the United States*. Those old imprints can be hard to reprogram, especially for someone as pigheaded as Tom. As far as being arrogant and opinionated, those qualities require no apology. It suited him.
At his core Tom Gordon was quintessential biker trash. He was exactly what every poser Harley rider wishes they were, and none of them will ever be.
* Racists under 60 can fuck off. They have no excuse.
This blog is now located at
http://easyridermovie.blogspot.com/
. For what it's worth.
For feed subscribers, please update your feed subscriptions to http://easyridermovie.blogspot.com/feeds/posts/default.
Blogger is discontinuing support for FTP publishing (which is how I've had this set up). So... that's it for the blog. Um, yeah. Might look for alternatives. I don't know.

Easy Rider - The Ride Back
The long awaited prequel to one of the highest grossing independent films of all time. "Easy Rider" defined the thoughts and values of a generation. The Prequel "Easy Rider: The Ride Back" shows through flashbacks how these much loved characters became the classic icons of a generation.

Millions of fans around the world know the throb of the Captain America Harley Davidson, the roar of that great 60s music, the thrill of the open road. Now a whole new generation can experience the same sense of freedom through these modern day road rebels in "Easy Rider: The Ride Back".
I'll reserve judgment until I've seen it.
I told you I would try to make something a bit more interactive for Easy Rider fans and now I have.
Join the
Easy Rider Facebook
group. Totally open group. Talk about Easy Rider. Post pictures from film sites. Discuss Captain America and Billy Bike specs. Or maybe just add some shots of you and your bike. Make it yours.
And if you blow it, at least have fun along the way. Cheers.
Thank you to everyone who has been sending me such great pics. I'm sorry that I've pretty much abandoned this site to pursue other projects. Perhaps I need to make this experience a bit more interactive to facilitate interaction between Easy Rider fans. I'll see what I can come up with.
Meanwhile, I found this in a gift store.
I know. I pop in here maybe once a year now with something. The site is greatly neglected. Sorry.

Well, here's an interview with Dennis Hopper where he talks quite a bit about Easy Rider.



Tom Gordon and his son Jason of
Motorcycle Specialties
offer head porting services for all V-twins. Why should you send your heads to them?
During (Tom's) drag racing years (1987-2001) he proved his abilities in the area of engine performance. He won many events in the Midwest including races at Sturgis, South Dakota; Grove Creek, Minnesota; Havana, Illinois, and the Harley Drags in Humboldt, Iowa. At the Harley Drags in Humbolt, Iowa he set two national records, one in Elapsed Time, and one in Miles Per Hour.
For you Ironhead owners, Tom is a huge Ironhead fan. He is definitely a guy worth knowing if you own an old Sportster. Those records mentioned above were set on an Ironhead drag bike. They can do miracles on any V-twin head.
What? You don't like more horsepower? You don't want to leave the sport bikes eating your dust? Then never mind.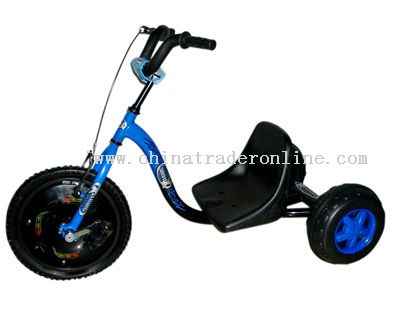 While watching the neighbor kids play I was reminded of the kids from my generation. I now have a theory as to the roots of the return of the chopper.
So I called out to the kid's dad. "Be careful. It leads to harder stuff."